"What Sir Arthur Conan Doyle did for Victorian London and Caleb Carr did for old New York, J. Sydney Jones does for historic Vienna."
—Karen Harper, New York Times bestselling author
The Keeper of Hands
The latest intriguing novel of suspense in the Viennese Mystery series.
"Jones's masterful fourth mystery set in early-20th-century Vienna ...[offers] top-notch detecting and characterizations [that] bolster the intricate plot." (May 13, 2013)
— Publishers Weekly (*starred review)
"As much an exploration of prewar Vienna as it is a mystery yarn, the book is full of striking visual imagery that helps conjure up the landsdcape...this series is well worth a look." (May 1, 2013)
— Booklist
"Jones recreates the beau monde of vintage Vienna with verisimilitude and consummate style." (July 15, 2013)
— Kirkus Reviews
"[An] intriguing historical series." (July 12, 2013)
—Teresa L. Jacobsen, Library Journal
"There are many things to like about Jones's books, not the least of which is his ability to weave historical characters into a seamless narrative centered about a character of his own invention….An action-packed and thoroughly engaging book."
—Leighton Gage, author of the Inspector Mario Silva series, set in Brazil,
"[The Keeper of Hands] is ... a murder mystery, a conventional thriller, an espionage thriller with political overtones, and a historical novel. As a picture of a city in times gone by, this is a remarkable technical achievement. ... It's a winner." (May 27, 2013)
—David Marshall, Thinking about Books
Vienna, 1901. With the police seemingly indifferent to the murder of a 19-year-old prostitute known as Mitzi, brothel-keeper Frau Mutzenbacher turns to lawyer Karl Werthen to find out what happened and bring her killer to justice. Yet the more he discovers about the mysterious Mitzi, with her secret past and impressive roster of clients, the more questions Werthen's investigation throws up.
At the same time, Werthen undertakes a second commission: to find out who viciously assaulted playwright Arthur Schnitzler. Schnitzler believes his latest controversial play might have been the motive for the attack - but is there more to it than that?
As he navigates the highs and lows of Viennese society in dogged pursuit of the truth, Werthen finds himself drawn into a conspiracy of espionage and affairs of state.

Read an excerpt

Read more praise from the critics

Read interviews

The Silence
The eagerly awaited third volume in the critically acclaimed Viennese Mystery series is now available.
"Ultimately, this fin de siècle mystery is all very Sherlock Holmes. Populated with such real-life luminaries as artist Gustav Klimt, Jones's third historical series title (after The Empty Mirror) is an intricately plotted, gracefully written, and totally immersive read. Recommended for Stefanie Pintoff, Laurie R. King, and Philip Gooden fans." (January, 2012)
—Teresa L. Jacobsen, Library Journal (*starred review)
"Jones vividly evokes 1900 Vienna under the leadership of its notorious anti-Semitic mayor, Karl Lueger, in his splendid third whodunit featuring attorney Karl Werthen and criminologist Hanns Gross.... Jones poses a challenging puzzle for his savvy investigator while subtly portraying the growing threat to Europe's Jews." (November 14, 2011)
— Publishers Weekly (*starred review)
"Jones' measured, stately prose is perfectly in tune with his period setting and his hero's intense intellectual curiosity.... His intricate plot unfolds with suspense and style" (February 1, 2012)
— Kirkus Reviews
Included in Kirkus Reviews
"10 Thrillers to Watch for This Fall" list:
"[Jones uses] mystery fiction to resurrect beautiful, historic Vienna." (August 30, 2011)

Vienna, 1900. Lawyer and private inquiries agent Karl Werthen is puzzling over the high-profile suicide of a city councilman--former client, next in line to Vienna's powerful Mayor Karl Lueger, and the last man Werthen would think capable of suicide. Werthen, however, has little time to ponder, as he is summoned by wealthy industrialist Karl Wittgenstein (father of the future philosopher Ludwig) to find his oldest son, Hans, who has gone missing.
Werthen soon discovers the whereabouts of the musically-minded Hans, and the case appears to be solved. But appearances are deceiving, and a simple missing person's case soon leads back to the councilman's suicide. Werthen—once again ably assisted by his wife, Berthe, and real-life father of criminology, Dr. Hanns Gross—journeys into a sinister web of deceit and violence that threatens not only his life, but also the very heart of the city and the empire.

Read more praise from the critics

Read an excerpt

Read interviews
For an excellently annotated version of The Silence (you need the book in hand of course) go to Book Drum. There you can find page by page explorations of personalities and historical insights along with period photographs, maps, and other illustrations. All thanks to my old buddy, Tom Ovens..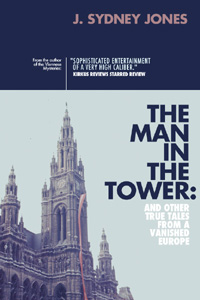 Kindle Edition
(December, 2011)

Buy the book:
Amazon.com
Travel back to Cold War Vienna

The Man in the Tower
Product Description from the publisher:
Critically acclaimed novelist J. Sydney Jones brings Cold War Europe to stark and often humorous life in this memoir of his two decades living in Vienna as a foreign correspondent and fledgling writer. With the same attention to detail exhibited in his acclaimed "Viennese Mysteries" series, Jones parses the world of Central Europe, from the quotidian to the political.
Here is the blue-eyed refugee from the Biafran War, Ubhani, the man in the tower of the title, seeking asylum in the Austrian capital; the Hungarian patriot who pays his own special tribute to the 1956 uprising; the nondescript state police agent commissioned to watch foreigners in neutral Austria to ensure they did not ruffle the feathers of the Soviets; the editor of a prestigious Viennese publishing house none too eager to do business with a brash young Ami.
Travel with Jones back to Czechoslovakia just months after the Soviet's brutal suppression of Prague Spring in'68; to guard towers along the waist-deep waters of a lake on the Austro-Hungarian border; to a cozy armchair at the British Council Library; to an all-purpose Tabak Trafik: to life in a Cretan cave; or to the final voyage of the SS France.
Jones proves a dependable and insightful guide to this forgotten world before the Wall came down.
An added bonus is the short story, "Body Blows," which introduces Sam Kramer, the foreign correspondent protagonist from Jones's new series of novels set in Europe following the fall of the Wall.

Requiem in Vienna
The composer Gustav Mahler is at the heart of this intriguing and compelling mystery/thriller set in Vienna 1900.


"Sophisticated entertainment of a very high caliber."
—Kirkus Reviews (*starred review)
"A first-class historical mystery."
—Booklist (*starred review)
"A compelling period whodunit with bountiful cultural and social details."
—Publishers Weekly

Read more about the book

Read more praise from the critics

Read an excerpt

Read interviews

"[An] absorbing whodunit that succeeds both as a mystery and as a fascinating portrait of a traditional society in ferment." —Publishers Weekly (*starred review)
The Empty Mirror
The highly praised first volume of the Viennese Mystery series is now available in paperback.
Fin de siècle Vienna comes to vibrant life in this colorful historical thriller featuring the artist Gustav Klimt.
"...Jones delivers a meaty historical that bodes well for further adventures.."
—Publishers Weekly (*starred review)
"This one bears watching."
—Booklist
"Jones keeps his mystery moving along with a good deal of skill, but the greatest interest of the novel lies in its glimpses of the political passions and bizarre occurrences of the era.... In recent years, fin-de-siecle Vienna has shown signs of becoming to literary thrillers what 1940s Los Angeles is to noir. The Empty Mirror, a colorful story that neatly combines fact and fiction, suggests why."
—Patrick Anderson, review in Washington Post
"Jones ... deftly melds fact with fiction in a novel that will appeal to mystery aficionados as well as history buffs"
—Richmond Times-Dispatch

Read more about the book

Read more praise from the critics

Read an excerpt

Top