"What Sir Arthur Conan Doyle did for Victorian London and Caleb Carr did for old New York, J. Sydney Jones does for historic Vienna."
—Karen Harper, New York Times bestselling author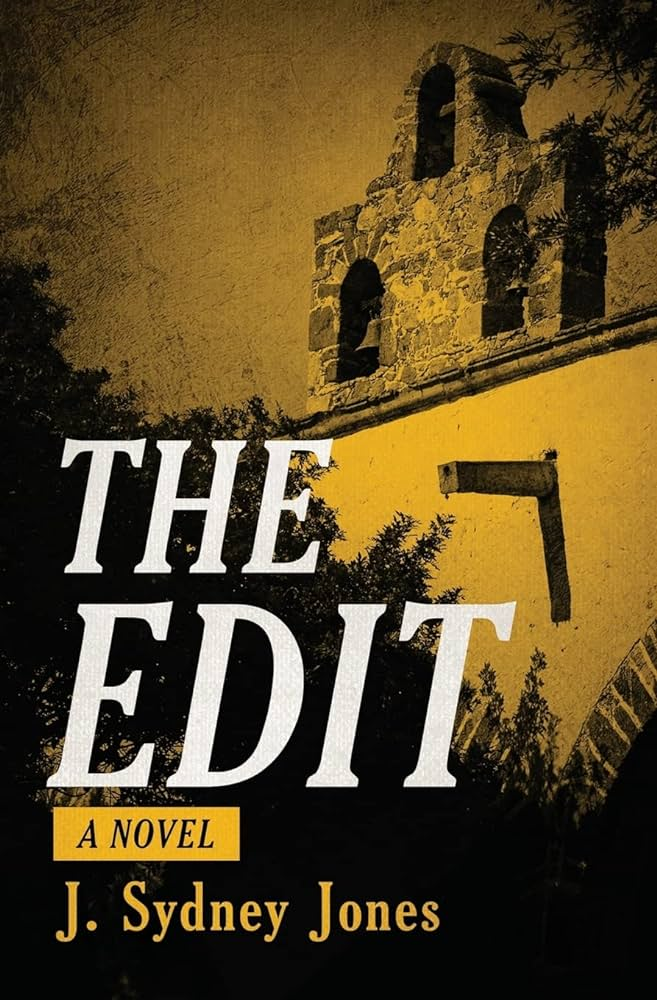 MysteriousPress/Open Road
US ed: 2017

Buy the book:

Amazon.com
The Edit
An ex-Nazi on the run will do whatever it takes to keep his vicious past from being exposed in this chilling novel of suspense.
On the coast of Central America, an aging man sits down to pen his memoirs. He begins with his childhood in Vienna, just after World War I, when his family lived in respectable poverty and his greatest pleasure was being rocked to sleep in the lap of his beloved babysitter. It would be a sweet tale if the author could withhold what comes later… but he intends to tell every horrifying detail of the truth. He's a war criminal, a veteran of the elite Nazi brigade known as the SS, and he'll write proudly of every atrocity he can recall.
Distracting him from his work is inquisitive American journalist Kate O'Brien, who has come in search of a story. When Kate accidentally stumbles upon the old man's pages, he has no choice but to act, kidnapping her and locking her in his basement. His latest crime threatening to expose him, the proud Nazi will come face to face with the horrors of his past and the blackness of his soul.
Impeccably researched and chillingly believable, The Edit is a truly unique novel of suspense written by J. Sydney Jones, author of Ruin Value, a groundbreaking mystery set in the shadow of the Nuremberg Trials. This time, Jones takes the reader into a truly horrifying place: deep within the mind of a Nazi.
"Jones brings deliciously dark humor to his psychological thriller, a worthy cousin to John Fowles' classic The Collector."
— Kirkus Reviews

The Third Place
March, 1902. When Herr Karl, head waiter of the Café Burg, is found dead at the foot of the Maria Theresa monument, it is assumed he slipped on the ice and hit his head. However, a witness has come forward who says otherwise, and private enquiries agent Karl Werthen is hired to investigate.
At the same time, Werthen is commissioned to locate a missing letter from the emperor to his mistress. Franz Josef is desperate for the letter not to fall into the wrong hands - but what incendiary information does it contain?
As Werthen and his colleague, renowned criminologist Dr Hanns Gross, pursue their investigations, it becomes increasingly clear that there is a connection between the two cases - and that the future of the empire may be at stake.


"This masterfully plotted tale offers an intimate and revealing portrait of turn-of-the-century Vienna, with fine characterizations, gentle humor, clever dialogue."
—Booklist
"This is a really good read. The setting is charming and I use the word to describe the way the author embeds the whole story in a faithful attention to the period and place. It is well written and the plot is well constructed. The use of the European political dynamics of the time is well done with its hints of worse to come for the Hapsburg court. The reader might be lulled into thinking the end will be predictable but that would be unwise. Nothing could be further from the truth as an unexpected twist to the story ensures a surprise at the end."
—Douglas O., NetGalley
"This sixth book in the Viennese Mystery series is a suspenseful mystery incorporating Viennese café culture and society. The author weaves a tale of murder, assassination, and terrorism against the turn-of-the-century clash of old and gentile vs. new and brash. The author's descriptions of characters and settings brings this era to life and he shares his knowledge of Vienna in such a unique way that I feel as if I'd strolled the Ringstrasse myself. Berthe and Karl Werthen along with Dr, Gross have become familiar characters just like old friends. The antecedents of World War I are in this book, and I would recommend it to anyone with an interest in this period or anyone looking for a good historical mystery."
—Anne D., NetGalley
"When Herr, head waiter of the Café Burg, is found dead and thought that he slipped on the ice and hit his head. But a witness comes forward and Inquiries Agent Werthen is hired to investigate while he is also commissioned to locate a missing letter. Franz Josef doesn't want the letter to fall into the wrong hands. As Werthen and Dr Hanns Gross pursue their investigations becoming increasingly clear that there is a connection between the two cases . I love this book, a real page turner! Couldn't put it down until I finished this book. Will recommended to other readers! "
—Michael K., NetGalley
Historical Novel Society Interview — Historical Novel Society

Basic Law
Expat American journalist Sam Kramer is burned out: too many dead bodies, too many wars covered, too little meaning in it all. He's got a dead-end job at the Daily European as the correspondent for Vienna, where nothing happens now that the Cold War is over. And that is exactly how Kramer likes it.
But his private neutral zone is shattered with news of the suicide of Reni Müller, a German left-wing firebrand and Kramer's long-estranged ex-girlfriend. To his surprise, Kramer suddenly finds himself the executor of Reni's literary estate-but the damning memoir named in her will is nowhere to be found. Tracking down the manuscript will lead Kramer to the unsettling truth of Reni's death, drawing him back into the days of the Cold War and showing him the dark side of the woman he loved.


"A perfect blend of thriller and whodunit, Basic Law provides an absorbing look at a perilous time. A yarn spun with skill and chills, moral absolutes and moral ambiguities, it challenges the reader from first to last page." (April 25, 2015)
—Jay Strafford, — Richmond Times-Dispatch
"This is the second book I've read by this excellent author. The previous book, Ruin Value, had a meaning in the title and Basic Law also has a meaning as you come to realise, as you get involved in the book. A very good thriller, which keeps the storyline interesting and leaves you wanting more. Highly recommended." (June, 2015)
—Geoff Jones, — Euro Crime
Big Thrill interview — Big Thrill

The German Agent
February, 1917. A lone German agent is despatched to Washington to prevent the British delivering a telegram to President Wilson – by any means possible. For this is the Zimmermann telegram: it contains a devastating piece of news which is sure to bring the USA into the war on the side of Britain and her allies.
Having fought in the trenches himself, Max Volkman knows that America's involvement will only prolong the slaughter of innocents and is implacable in his determination to kill the British envoy carrying the telegram. But when his pursuit of the Englishman leads him to the home of American heiress Catherine Fitzgerald, wife to one of Washington's most powerful politicians, he is presented with a terrible choice: loyalty to his comrades in the trenches or the loss of the one woman he has ever truly loved.
His decision will determine the outcome of the First World War.
"a well-written. espionage thriller" (January 6, 2015)
— Kirkus Reviews
"This book is centred around one of the most intriguing diplomatic incidents of World War I - the Zimmermann Telegram." (December 18, 2014)
David Marshall — Crime Fiction Lover
Big Thrill interview — Big Thrill

A Matter of Breeding
The fifth installment of the acclaimed Viennese Mystery series, A Matter of Breeding, finds lawyer and private inquiries agent Karl Werthen and his colleague, the criminologist Dr. Hanns Gross, investigating a series of grizzly murder/mutilations of young women in the Austrian province of Styria. The newspapers are touting Jewish blood ritual murders and vampirism, and Werthen and Gross—assisted by the Irish writer Bram Stoker who is in Austria to give a speech—battle against time to discover the real motive for such brutal and seemingly random killings. Meanwhile, Werthen's wife, Berthe, has her own case to deal with. Commissioned by Archduke Franz Ferdinand, she is investigating a potential breeding scandal at the famous Lipizzaner stud. If the stud line has indeed been corrupted, this can prove to be more than a mere embarrassment for the Habsburgs, for the Lipizzaner blood line has been introduced to most of the royal stables of Europe. As these dual investigations proceed, it eventually becomes apparent that there is a connection between the two. In the end, it all comes down to a matter of breeding.
"A brilliantly atmospheric novel, A Matter of Breeding paints a remarkable portrait of Vienna at the dawn of the 20th century. The city literally comes to life in a radiantly authentic display of pageantry and prejudice, effectively drawing the reader into a bygone age." (August, 2014)
— Historical Novel Society
"The protagonists of Jones's historical forensic series, ... are likable, his intricate plot is Sherlockian..." (July 1, 2014)
— Library Journal
"[Jones is] one of the jewels of the historical mystery scene with a growing list of titles set in Vienna before World War I." (June 25, 2014)
David Marshall — San Francisco Book Review
"Jones adds a delicious historic perspective… presented with precision and panache."(June 15, 2014)
— Kirkus Reviews
"[This] solid fifth whodunit featuring lawyer Karl Werthen and real-life criminologist pioneer Hanns Gross … is one of the series' best at combining plot and historical background." (May 12, 2014)
— Publishers Weekly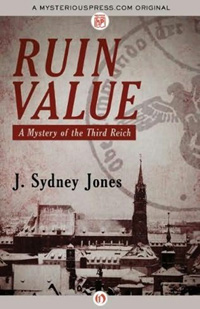 MysteriousPress/
Open Road
October 1, 2013

Buy the book:

Amazon.com
iBookstore

Ruin Value
Nuremberg is a dead city. In the aftermath of World War II, two-thirds of its population has fled or is deceased, with thirty thousand bodies turning the ruined industrial center into a massive open grave. Here, the vilest war criminals in history will be tried. But in Nuremberg's dark streets and back alleys, chaos rules.
Captain Nathan Morgan is one of those charged with bringing order to the home of the war crime trials. A New York homicide detective who spent the war in Army intelligence, he was born to be a spy—and now, in 1945, there is no finer place for his trade than Nuremberg. As the US grapples with the Soviets for postwar supremacy, a serial murderer targets the occupying forces. Nathan Morgan may be the perfect spy, but it's time for him to turn cop once more.
"The story is solid and suspenseful …but it's the relationship between Morgan and Beck, two men who don't like or trust one another, that makes the book such a rich, powerful read. Fans of WWII mystery fiction should consider this one mandatory reading." (September 23, 2013)
— Booklist
"Capt. Nathan Morgan, an NYPD homicide detective, and Chief Insp. Werner Beck, a former German Kripo investigator … make a promising sleuthing pair." (August 26, 2013)
— Publishers Weekly
Included in Kirkus Review's "Last Chance: 10 Criminoous Yarns to Get You Through 2013".
"Ruin Value remains a bold piece of writing and a very pleasing serial killer investigation and thriller. It's well worth reading." Thinking about Books
"I could almost taste the fear and dust and decay as I read it. … Definitely a case of right book at the right time!" Col's Criminal Library
"Perfect for readers of historical crime fiction who like mysteries set in immediate postwar Europe and for readers who might be looking for a new crime writer who can whip up a good plot and keep it going consistently throughout the book… it's rich in setting and the crime is well plotted." Crime Segments
"The unlikely duo of Morgan and Beck get the job done despite some friction in their teamwork. The writing is terrific and brings post-war Nuremberg vividly to life. The main characters are interesting and likeable, and the author does a very good job of working with the post-war setting instead of disguising modern characters and attitudes in 1945 attire." At the Scene of the Crime
"Jones' portrayal of the devastation caused by allied bombing picks up the reader by the scruff of the neck and deposits him/her right in the middle of the rubble….Ruin Value is a very good read." Bookloons
"The author of this novel is a strong writer who is able to recreate the atmosphere and details of a post-WWII German city." Reviewing the Evidence
"[Jones] creates believable characters of every sort and there is a plot that is worthy of the setting…. The best developed character though was the killer. Jones has created a background for this person that lends understanding but still horrifies …[and adds] to the edge of your seat thrill of the story." Freedom Acres
"[Ruin Value] ratcheted up the suspense as the killer grew closer to the detectives and the reporter. The time and setting is a reminder that anti-Semitism didn't miraculously disappear once the war was over. Morgan is Jewish and endures epithets not only from the Germans but from his fellow Americans. Not only war is hell." Historical Novel Society
"Known for his carefully researched and well-developed characters,…[Jones] takes his readers to the setting of the Nuremberg Trials in the fall of 1945."
—Jane Crooks Britt, Florida Times-Union
Big Thrill interview — Big Thrill

The Keeper of Hands
The latest intriguing novel of suspense in the Viennese Mystery series.
"Jones's masterful fourth mystery set in early-20th-century Vienna ...[offers] top-notch detecting and characterizations [that] bolster the intricate plot." (May 13, 2013)
— Publishers Weekly (*starred review)
"As much an exploration of prewar Vienna as it is a mystery yarn, the book is full of striking visual imagery that helps conjure up the landsdcape...this series is well worth a look." (May 1, 2013)
— Booklist
"Jones recreates the beau monde of vintage Vienna with verisimilitude and consummate style." (July 15, 2013)
— Kirkus Reviews
"[An] intriguing historical series." (July 12, 2013)
—Teresa L. Jacobsen, Library Journal
"There are many things to like about Jones's books, not the least of which is his ability to weave historical characters into a seamless narrative centered about a character of his own invention….An action-packed and thoroughly engaging book."
—Leighton Gage, author of the Inspector Mario Silva series, set in Brazil,
"[The Keeper of Hands] is ... a murder mystery, a conventional thriller, an espionage thriller with political overtones, and a historical novel. As a picture of a city in times gone by, this is a remarkable technical achievement. ... It's a winner." (May 27, 2013)
—David Marshall, Thinking about Books
Vienna, 1901. With the police seemingly indifferent to the murder of a 19-year-old prostitute known as Mitzi, brothel-keeper Frau Mutzenbacher turns to lawyer Karl Werthen to find out what happened and bring her killer to justice. Yet the more he discovers about the mysterious Mitzi, with her secret past and impressive roster of clients, the more questions Werthen's investigation throws up.
At the same time, Werthen undertakes a second commission: to find out who viciously assaulted playwright Arthur Schnitzler. Schnitzler believes his latest controversial play might have been the motive for the attack - but is there more to it than that?
As he navigates the highs and lows of Viennese society in dogged pursuit of the truth, Werthen finds himself drawn into a conspiracy of espionage and affairs of state.

Read an excerpt

Read more praise from the critics

Read interviews

The Silence
The eagerly awaited third volume in the critically acclaimed Viennese Mystery series is now available.
"Ultimately, this fin de siècle mystery is all very Sherlock Holmes. Populated with such real-life luminaries as artist Gustav Klimt, Jones's third historical series title (after The Empty Mirror) is an intricately plotted, gracefully written, and totally immersive read. Recommended for Stefanie Pintoff, Laurie R. King, and Philip Gooden fans." (January, 2012)
—Teresa L. Jacobsen, Library Journal (*starred review)
"Jones vividly evokes 1900 Vienna under the leadership of its notorious anti-Semitic mayor, Karl Lueger, in his splendid third whodunit featuring attorney Karl Werthen and criminologist Hanns Gross.... Jones poses a challenging puzzle for his savvy investigator while subtly portraying the growing threat to Europe's Jews." (November 14, 2011)
— Publishers Weekly (*starred review)
"Jones' measured, stately prose is perfectly in tune with his period setting and his hero's intense intellectual curiosity.... His intricate plot unfolds with suspense and style" (February 1, 2012)
— Kirkus Reviews
Included in Kirkus Reviews
"10 Thrillers to Watch for This Fall" list:
"[Jones uses] mystery fiction to resurrect beautiful, historic Vienna." (August 30, 2011)

Vienna, 1900. Lawyer and private inquiries agent Karl Werthen is puzzling over the high-profile suicide of a city councilman--former client, next in line to Vienna's powerful Mayor Karl Lueger, and the last man Werthen would think capable of suicide. Werthen, however, has little time to ponder, as he is summoned by wealthy industrialist Karl Wittgenstein (father of the future philosopher Ludwig) to find his oldest son, Hans, who has gone missing.
Werthen soon discovers the whereabouts of the musically-minded Hans, and the case appears to be solved. But appearances are deceiving, and a simple missing person's case soon leads back to the councilman's suicide. Werthen—once again ably assisted by his wife, Berthe, and real-life father of criminology, Dr. Hanns Gross—journeys into a sinister web of deceit and violence that threatens not only his life, but also the very heart of the city and the empire.

Read more praise from the critics

Read an excerpt

Read interviews
For an excellently annotated version of The Silence (you need the book in hand of course) go to Book Drum. There you can find page by page explorations of personalities and historical insights along with period photographs, maps, and other illustrations. All thanks to my old buddy, Tom Ovens..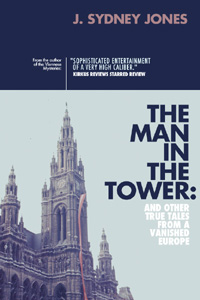 Kindle Edition
(December, 2011)

Buy the book:
Amazon.com
Travel back to Cold War Vienna

The Man in the Tower
Product Description from the publisher:
Critically acclaimed novelist J. Sydney Jones brings Cold War Europe to stark and often humorous life in this memoir of his two decades living in Vienna as a foreign correspondent and fledgling writer. With the same attention to detail exhibited in his acclaimed "Viennese Mysteries" series, Jones parses the world of Central Europe, from the quotidian to the political.
Here is the blue-eyed refugee from the Biafran War, Ubhani, the man in the tower of the title, seeking asylum in the Austrian capital; the Hungarian patriot who pays his own special tribute to the 1956 uprising; the nondescript state police agent commissioned to watch foreigners in neutral Austria to ensure they did not ruffle the feathers of the Soviets; the editor of a prestigious Viennese publishing house none too eager to do business with a brash young Ami.
Travel with Jones back to Czechoslovakia just months after the Soviet's brutal suppression of Prague Spring in'68; to guard towers along the waist-deep waters of a lake on the Austro-Hungarian border; to a cozy armchair at the British Council Library; to an all-purpose Tabak Trafik: to life in a Cretan cave; or to the final voyage of the SS France.
Jones proves a dependable and insightful guide to this forgotten world before the Wall came down.
An added bonus is the short story, "Body Blows," which introduces Sam Kramer, the foreign correspondent protagonist from Jones's new series of novels set in Europe following the fall of the Wall.

Requiem in Vienna
The composer Gustav Mahler is at the heart of this intriguing and compelling mystery/thriller set in Vienna 1900.


"Sophisticated entertainment of a very high caliber."
—Kirkus Reviews (*starred review)
"A first-class historical mystery."
—Booklist (*starred review)
"A compelling period whodunit with bountiful cultural and social details."
—Publishers Weekly

Read more about the book

Read more praise from the critics

Read an excerpt

Read interviews

"[An] absorbing whodunit that succeeds both as a mystery and as a fascinating portrait of a traditional society in ferment." —Publishers Weekly (*starred review)
The Empty Mirror
The highly praised first volume of the Viennese Mystery series is now available in paperback.
Fin de siècle Vienna comes to vibrant life in this colorful historical thriller featuring the artist Gustav Klimt.
"...Jones delivers a meaty historical that bodes well for further adventures.."
—Publishers Weekly (*starred review)
"This one bears watching."
—Booklist
"Jones keeps his mystery moving along with a good deal of skill, but the greatest interest of the novel lies in its glimpses of the political passions and bizarre occurrences of the era.... In recent years, fin-de-siecle Vienna has shown signs of becoming to literary thrillers what 1940s Los Angeles is to noir. The Empty Mirror, a colorful story that neatly combines fact and fiction, suggests why."
—Patrick Anderson, review in Washington Post
"Jones ... deftly melds fact with fiction in a novel that will appeal to mystery aficionados as well as history buffs"
—Richmond Times-Dispatch
Read more about the book
Read more praise from the critics
Read an excerpt

Top